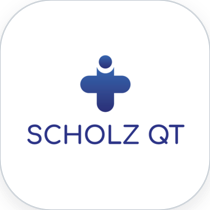 Scholz QT
Helping people on multiple drugs to prevent hazardous drug risks and drug interactions. 

Medication errors are a huge worldwide problem which cause substantial avoidable numbers of sick people, hospitalizations, and more dead people than by street traffic. Drug-induced QT Prolongation is one of the most dangerous adverse drug effects leading to heart rhythm disturbances which in the worst case may end with sudden cardiac death. 

Drug drug interactions, side effects and individual patient risk factors are the major reasons for this avoidable adverse drug risk (ADR). Millions of U.S. american patients, in particular elderly people, are due to their multiple chronic diseases daily on multiple drugs. Many of them take drugs which may prolong the QT time. 

Good reason to give patients themselves a tool into their hands to protect from avoidable adverse drug events. SCHOLZ QT is this tool, an APP easy to use just like a thermometer. Just enter your drugs and detect which drug combinations might be especially hazardous and when you should call your doctor!